&nbsp
First Century
Christianity
for the
Twenty-First
Century
---
Trinity Fellowship
A Ministry of the Evangelical Free Church of America
located at the corner of Morgan and Collins in Toccoa, GA.
Sunday worship begins at 10:30 am.
---
&nbsp
This site looks best
in IE 4 and above.
Trinity Fellowship is located on the corner of Collins and Morgan in Toccoa, Georgia.
Sunday Services
Morning Worship begins at 10:30 AM
Need a Ride? We will provide transportation to and from Toccoa Falls College. Look for the green mini-van outside of Earl Hall. The van leaves at 10:00 am every Sunday morning.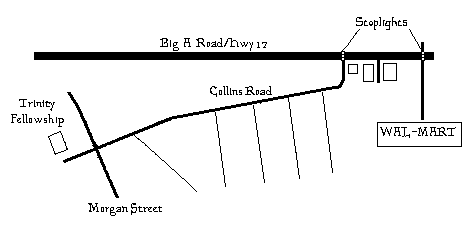 Sunday Evening activities begin at 6:00 pm are held in various members' homes and include a home-cooked meal!